LMS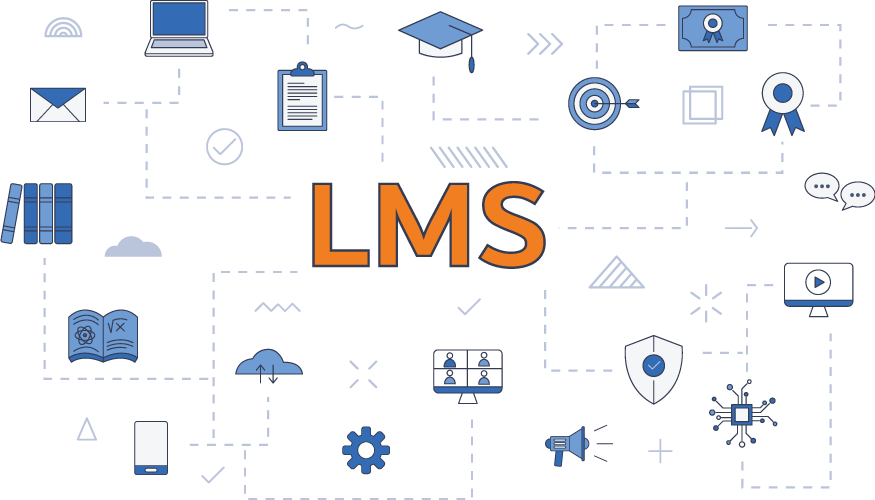 Corporate LMS
LMS software, often known as computer-based training software, aids educational institutions and businesses in better managing their online learning programs, which may be a very effective approach to boosting employee engagement and retention while also improving skill levels.
Rather than having to manually manage and track all of the workflows required to ensure that employees have access to and complete learning programs, LMS solutions help automate the entire process from beginning to end.
We are an IT service partner and provider firm that provides small and large businesses, as well as educational institutions, with complete e-learning solutions. FeelTech Solutions provides the expertise, tools, and experience to get your LMS up and operating quickly. FeelTech's LMS services provide personalized online learning and e-Training services that are tailored to your specific needs.
At FeelTech Solutions, we recognize the significance of choosing the proper learning management system—one with a plethora of capabilities to assist manage to learn more effectively and, more significantly, one that matches your company's specific needs.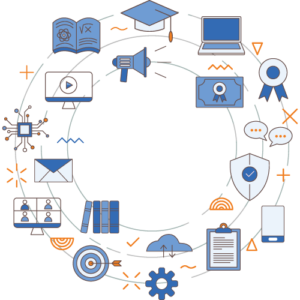 What does LMS mean?
A learning management system, or LMS, is a piece of software that assists you in creating, managing, and delivering training programs to your target audience. It acts as a central hub for your organization's learners, allowing you to train, assess, and track their progress.
What is the meaning of the acronym LMS?
How we works
How it helps your business succeed
01: Planning
An excellent place to start is to get a project-plan template from your LMS vendor. You can begin with the vendor's template and then add tasks that are not related to the vendor. Data cleansing, communications planning, change management planning, user acceptability testing, end-user support, and so on.
02: LMS Configuration
An LMS company will teach you how to use their program and then expect you to configure it. To provide critical customer advocacy, counseling, and assistance, a vendor cannot understand the ins and outs of each of its client's businesses. To get the greatest potential result, your vendor's product expertise and your core team's professional understanding of your demands must meet.
03: System Integration,
LMS can be integrated with other applications to allow data to be viewed, transferred, and updated. The following are the primary solutions that will be integrated: Solutions for maintaining user data and profiles; Platforms for single sign-on (SSO) for employees that utilize many software solutions to access the system.
04: Course and Data Migration
To avoid major failures and complications in the future, it is recommended to transmit a small quantity of data first. During the move, be certain that you adhere to data retention regulations.
05: User Acceptance Testing
For testing purposes, a small number of employees should be given access to the LMS. Each team member must record which menus have been picked, which check boxes have been checked, which buttons have been hit, which fields have been filled in, and so on. Tests should be created, tests should be scheduled, and testers should be assigned based on the information gathered.
06: Going Live
The LMS is made accessible for usage after extensive software development and testing. Users must be trained on how to utilise the system, and an action scene should be provided to your company's IT support.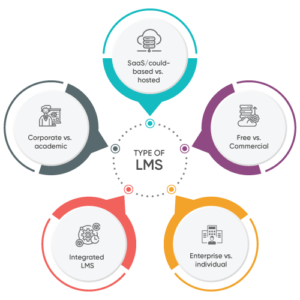 What are the different types of LMS?
To organize and provide course content to learners, there are several types of Learning Management Systems on the market. While these platforms all have the same goal in mind, their unique features might differ. A company must think about the features of an LMS and then match them to their specific requirements. Organizations can pick from a variety of LMSs.
Assess your business potentials and find opportunities for bigger success
What can an LMS be used for?
FAQ's
What is a Learning Management System?
A Learning Management System is an effective tool that is created and designed to establish administration, documentation, reporting, tracking, and deliver online learning. It's also known as "e-learning" because the software that is used will provide a virtual classroom-like environment for training organisation employees and trainers alike.
What are the main features of LMS?
Learning Management System (LMS) allows Instructors to easily create courses and add course material. Adding learners/trainees, creating batches/groups, importing a list of users/trainees makes it very convenient to manage a large user base. From creating and managing courses to adding users/trainees and tracking user progress, making announcements, and staying in touch with the users makes a very powerful training platform.
Who is the user base of an LMS?
It can be used by any company that wants to implement online training sessions. This is especially useful to companies that- • Want to provide on-demand training to a large number of learners. Therefore, making the e-learning process low-cost and efficient. • Provide courses or classes which will be well suited to online learning sessions for situations like employee inductions and internal refresher pieces of training. • Want to expand the business, geographically. • Want to get involved in foreign markets and languages that aren't spoken by in-house trainers. • Want to design, construct and sell content online to other training organizations.
Can LMS Software support organizations of any size?
LMS software ensures that its clients achieve the highest success levels. Firstly, it starts with ensuring that the business and training sessions are a good fit for the company's services and products; this means that the results that are gained through training should benefit the overall growth objectives of the company. Some LMS software will favor midsize to large-scale companies because these levels can afford the features and tools and also benefit from the functionality. However, sometimes, there are LMS platforms that offer custom configurations and plans for startups and small businesses
Can LMS be customized?
Absolutely. We can customize the user interface to match your Corporate Theme, Logo, Colors, etc.
What industries tend to use online learning and LMS training platforms?
Here are some of the top clients who make use of LMS- software: • Food & Beverage sector • Healthcare institutions • Hospitality • Financial Services • Insurance • Retail • Technology • Business Management • Associations • Construction • Government • Transportation corporations • Utilities • Training Groups • Manufacturing
How secure are the LMS servers?
Usually, LMS servers will take on 128-bit servers that have SSL encryption to ensure that there is a secure transmission of data between the client and the data center. The content data will be protected by top-notch security encryption keys. If there is an unlikely situation where someone attempts to intercept the information, then they will face a stream of nonsensical data. The top LMS software platforms will ensure that your information is contained in a secure and world-class facility that is managed by expert cybersecurity professionals.
Can you use LMS features for distance learning?
Yes, you can use the Learning Management System features for distance learning and complement any kind of classroom education. The best LMS software will allow you to deploy courses online that will update learners/students at any time and anywhere across the globe. As a trainer, you can create and launch content that can be accessed anywhere in the world, be it corporate offices, health institutions, financial organizations, dorm rooms, and so on. When used in the right way, LMS can help with efficient e-learning and training.
Why does your company need an LMS system?
Along with various LMS features, enabling online training for corporate learners can provide you with many benefits of LMS, as well. When you use concepts like e-learning and online training instead of traditional classroom training sessions, then you will reduce costs and enhance productivity throughout the organization. For instance, when you implement mandatory training sessions on food hygiene and fire safety can be taken when it's a slow day at work instead of taking employees to a different location altogether. Tracking and monitoring an employee's progress at work, through LMS, will make it easy for management during the audit process instead of sifting through endless piles of paperwork. Can I request additional features or functionalities to suit my unique training requirements? Absolutely. Please feel to contact us and share your requirements. We would be happy to work with you to provide any additional features or functionality required.