UI UX Development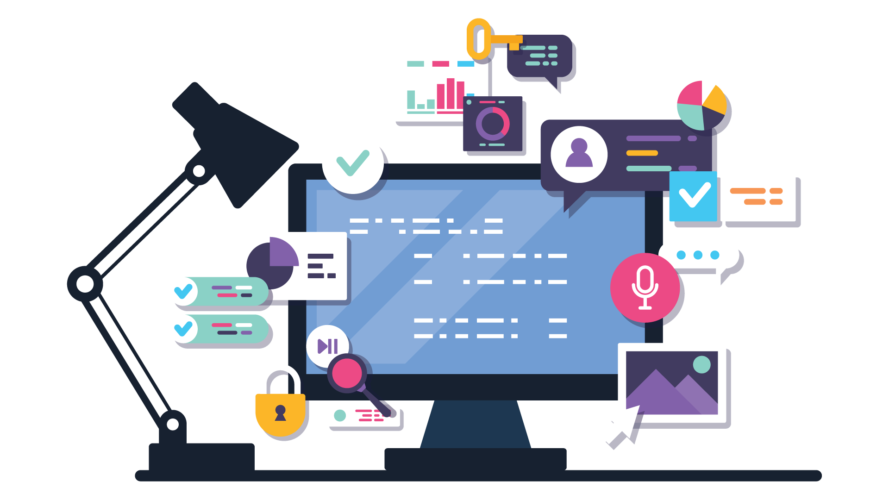 We offer top-notch UI/UX Development Services
Increase user interaction and revenue by giving your solutions a more engaging appearance and feel. Explore creative digital experiences by providing UI & UX development services that combine technology, creativity, and customization.
We create enthralling user experiences that have a major influence on customer experience, brand value, and conversions.
Our talented team of creative designers understands design principles and creates eye-catching UI and UX designs for strategic company success. We are an IT service partner and provider firm that provides small and large businesses, as well as educational institutions, with complete e-learning solutions. FeelTech Solutions provides the expertise, tools, and experience to get your LMS up and operating quickly. FeelTech's LMS services provide personalized online learning and e-Training services that are tailored to your specific needs.
At FeelTech Solutions, we recognize the significance of choosing the proper learning management system—one with a plethora of capabilities to assist manage to learn more effectively and, more significantly, one that matches your company's specific needs.
Services we provide in UI/UX


UI Development
We will put forth our best efforts to creatively transform your ideas and thoughts into a clear and completely functioning design. We are accountable for the application's architecture and its user-friendly interface.


UX Development
We consider all the possibilities for how end-users may engage with the app. To reach your objectives, we evaluate both user behavior and the system's essential characteristics, allowing for the accurate representation of all visual and functional aspects.


Prototyping
Prototyping is the first step in visualizing page structure, in which we optimise the page layout, presenting structural arrangement and alignments precisely planned for the user to have an intuitive and responsive digital experience.


Information Architecture Design
We determine the ideal approach for organising and structuring the information and data in your web and mobile apps. We thoroughly examine your users' behaviour to develop a solution that will meet your requirements


Wireframing
The very next stage in designing is to envision and produce a blueprint called a wireframe, which is an outline of the design to be created. We provide wireframing services, utilising the most recent digital assets to strategically portray each piece of information in a unique and engaging manner.

Usability Testing
Testing a product to evaluate user acceptance based on particular scenarios and usability testing. We provide a full range of usability testing services such as screen resolution testing, compatibility testing, crowd testing, and many other comparable tests.
Assess your business potentials and find opportunities for bigger success
Process We follow
01: Analytics and Research Process

We do various sorts of design research & experimental research to create top-notch designs for our clients to ensure the highest level of satisfaction. Analyzing and defining the user's behavior and actions, we accurately design ensure minimum risks and higher satisfaction

02: UI/UX Wireframes

We assist you in creating a long-lasting wireframe that clearly communicates detailed information. With a strong design-based approach, saving most of the design time by mapping the essential functionalities and navigational flow.

03: Prototype Testing

Providing early-stage possibilities to test the functionality of UI and UX, before developing your final solution ensuring minimal chance of risk and quality intact.

04: Designing

After wireframing Developing a clear and fully working UX/UI for your app, graphics are developed utilizing UI tools and technologies that accurately represent specific layout information. As a result, we develop engaging and one-of-a-kind graphics while keeping quality.

05: UI Testing Process

Examining for flaws and problems and offering recommendations on how to enhance functionality and performance. Our designers do usability testing based on the needs and functionality of the system to guarantee the interface is consumer appealing and growing consumer interaction.
FAQ's
What is user interface?
The user interface (UI) is the point at which user interaction with a computer, website, or application usually occurs. The purpose of good UI is to make the user's experience simple and intuitive, requiring the least amount of work from the user to achieve the maximum desired result.
What is User Experience (UX) Design?
The process by which design teams create products that give users with meaningful and relevant experiences is known as user experience (UX) design. This includes features of branding, design, usability, and function, as well as the full process of obtaining and integrating the product.
What is the difference between UI and UX?
The difference between User Interface (UI) and User Experience (UX) is that UI refers to the aesthetic components through which people interact with a product, whereas UX refers to the user's experience with the product or service. As a result, UI is concerned with visual interface elements whereas UX is concerned with the user and their journey through the product.
Why do you need UI/UX design?
The primary goal of every business is to boost sales and overall business growth. UX/UI Design plays an essential role in accomplishing this milestone. The application's UX/UI Design increases the user experience and customers ' satisfaction, which in turn helps grow the number of users.
Would I need to interact with your all team during the development phase?
Every project is assigned to a project leader who stands responsible to take care of interaction with the client. He/she, on behalf of all team, create communication with the respective client, and implements things accordingly.
What part does user research plays in UX design process?
UX design is a reflection of the requirements and needs of the users. As a result, understanding users, tasks, and surroundings is critical to every project. You want to create a product that your users will enjoy and appreciate, while also fulfilling their need. Clearly, user research is the foundation of the UX design process.
What are the inputs and data the client needs to provide?
We begin every project with a detailed brainstorming session with all of the client's stakeholders. These are the details/data we require before the start of every project. • Business/organisational goals • Target audience details • Product goals • Expected outcomes and KPIs of the project • Technical specifications • Market research data • Previous user experience audit results • User analytics data • Business reports
Do we also do development?
Yes, we are experts in Front end Engineering and translate the designs to pixel perfect.
What all front end technologies do we work on?
Angular, React, HTML5/CSS3
What is the average time for a project?
No two project are same, so it totally depends on your requirement.