Power BI
Power BI is a cloud-based corporate analytics and data visualization solution that allows anybody to view and analyze data more quickly, efficiently, and effectively. It gives customers access to a wide range of data through simple dashboards, interactive reports, and eye-catching visualizations.
The Power BI service website uses the Azure cloud infrastructure and follows the HTML 5 standard. It uses a feature called Power-View to provide comprehensive HTML5 functionality.
Embrace BI Capabilities with FeelTech
With an in-house or BI as a service full-scale and fine-tuned BI solution, you can.
Make your business operations more predictable.
Boost operational efficiency while improving client satisfaction.
Discover new earning possibilities by analyzing patterns.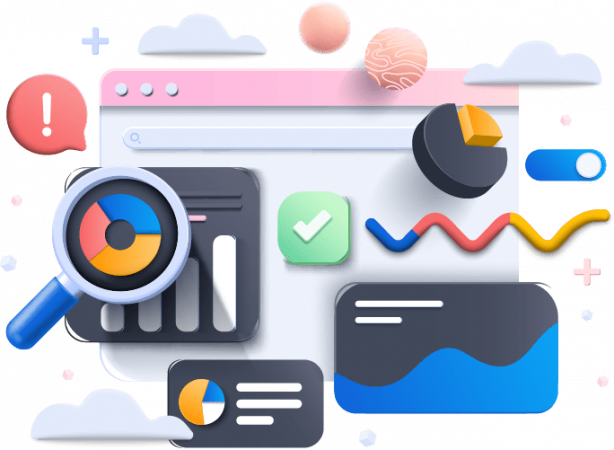 discover our company
What Power BI can do for you?



Visualize Enterprise Data
We bring together all types of company data sources, including third-party integrated systems, IoT sensors, and others.



Get Answers in Real-Time
We configured Power BI's natural language processing tools so that you can quickly query your data and get instant responses.



Advanced Analytics
Our data science team can assist you in using advanced analytics with Power BI by integrating R and Python scripts.
Assess your business potentials and find opportunities for bigger success
What are the Services we provide in Power BI?


Power BI Consulting
Our experts will guide you through the whole process, from developing a strategy to creating a data strategy to assessing and deploying a modern BI dashboard.


Power BI Integration
Using our Power BI integration services, you may get access to a variety of data sources, increase data exploration, and uncover hidden insights in your data.


Dashboard & Reporting
Because of personalized dashboards and interactive reports generated by our BI experts, you'll be able to make rapid and informed business decisions.


Analytics Service
We have vast experience designing complete algorithms to fulfill changing business requirements and provide you with BI Reporting and Interactive Dashboards.


Implementation
The information is utilized to develop a plan, as well as to set up and roll out Power BI dashboard in stages that are both progressive and transparent.

Mobile BI Reporting
You can view your reports and dashboards at any time and from any location with Power BI cloud-based reports that are tablet and mobile device compatible.
discover our company
What are the Benefits of Power BI Services?
Integrates seamlessly with existing applications
Power BI seamlessly connects with your existing business environment, allowing you to use analytics and reporting tools. Our advisors may also assist you in incorporating dynamic images into your apps using this user-friendly technology.
Rich Personalized Dashboards
The information dashboards, which can be tailored to match every enterprise's specific needs, are Power BI's crowning feature. To ensure a consistent user experience, you may easily incorporate dashboards and BI reports in your apps.
Publish Reports Securely
The tool assists you in setting up automatic data refresh and publishing reports so that all users have access to the most up-to-date data.
No Memory and Speed Constraints
By migrating a current BI system to a strong cloud environment with Power BI incorporated, memory and speed limits are removed, allowing data to be retrieved and analyzed fast.
No Specialized Technical Support Required
Power BI allows for quick investigation and analysis without the requirement for specialist technical assistance. It has a sophisticated natural language interface as well as easy-to-use graphic design capabilities.
Extracting Business Intelligence Rapidly and Accurately
It aids in the transformation of company data into rich graphics, allowing business insight to be extracted for better decision-making.
Balanced Simplicity And Performance
Both the in-memory analysis technology and the DAX scripting language are excellent instances of a delicate balancing of simplicity and speed.
FAQ's
What Is Power BI Used For?
Power BI is a powerful business intelligence tool that can be used for creating interactive visualizations from a variety of data sources in the cloud or on-premises.
How To Update Power BI?
If a new update is available from the official team, the Power BI app automatically updates itself to the latest version. You can also check the current version of your Power BI – Go To File > Help > About. You can click on 'Updates' from 'Options and Settings' to get a notification when your app requires an update.
What Is Power BI Dashboard?
Power BI dashboard also called a canvas is a single page that presents all your data and reports. It is an entryway to all datasets and visualizations and is used for overall monitoring at a glance.
What Is A Power BI Report?
A Power BI report consists of a single visual or page with many visuals. It showcases a multi-perspective view of a dataset with different findings and insights.
What Are Paginated Reports?
Paginated reports are pixel-perfect, well-formatted, and meant to be shared or printed. They are designed to fit well on a page.
What Is DAX In Power BI?
Data Analysis Expressions (DAX) is a library of functions, operators, and constants that can be used in formulas, expressions, and calculations in Power BI.
What Is A Slicer In Power BI?
A Power BI Slicer can be used to sort and filter data in a table or PivotTable. Slicers are a type of on canvas visual filter.